Hand Held Devices BANNED – Rhode Island
Beginning June 1st drivers will now be issued $100 fine for using cell phones / hand held devices while driving. Holding your cell phone while driving, along with any headphones/ear buds are also illegal.
Sgt. Greg Cunningham, of the Rhode Island State Police said first-time offenders face a hundred dollar fine, but there is a way to get the ticket dismissed.
"In the meantime, since getting your ticket and going to court, you are able to purchase some type of Bluetooth device or something that can help you use the phone hands free. Bring the receipt into court and the judge will waive the fee for you," said Cunningham.
The State of Rhode Island issued this flyer to explain what is and isn't allowed: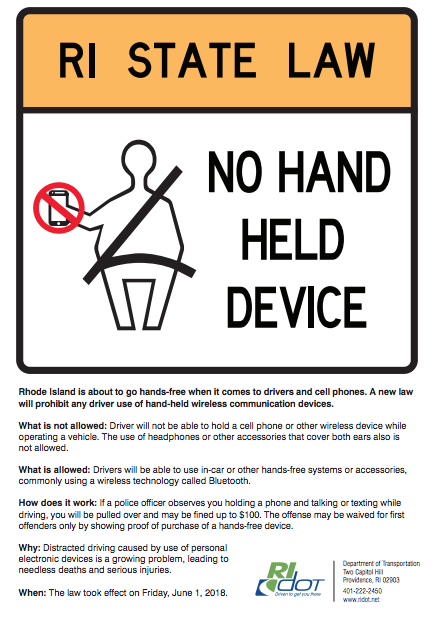 Read the full law here: http://www.dot.ri.gov/projects/HandsFree/documents/Hands_Free_Law_Enacted_7-10-17.pdf
Over the past 20 years, many businesses have considered us an extension of their own back office, where we have consistently saved them time and money by obtaining comprehensive coverage at the lowest possible cost – year after year. With that, we provide the peace of mind in knowing that your business is properly protected.
Who are we? We are a hand-picked group of insurance professionals that take the time to slow down and understand you and your business. What do we do once we know you? Backed by the region's largest insurance exchange – with over $600,000,000.00 in written premium – we leverage our buying power with the intimate knowledge of your operation to secure the best prices while ensuring you are properly protected.
The staff at Anastasi Insurance understands the many pressures facing a small business owner today and your need for fast accurate results. From juggling the needs of employees and customers to managing cash flow and staying ahead of intense competition, we are in a unique position to help you evaluate the cost of assuming risk or transferring that risk to an insurance company or surety.
At Anastasi Insurance, it's always Your Business First….