The NOAA defines a Storm Surge as
the abnormal rise in seawater level during a storm, measured as the height of the water above the normal predicted astronomical tide. The surge is caused primarily by a storm's winds pushing water onshore. The amplitude of the storm surge at any given location depends on the orientation of the coast line with the storm track; the intensity, size, and speed of the storm; and the local bathymetry.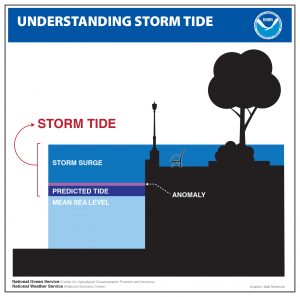 Storm surges can be extremely dangerous as they usually happen after the area has suffered a severe weather event, that locals sometimes think that there is no more danger and they let their guard down.
The "2018 CoreLogic Storm Surge Report" includes the following takeaways for insurers and their policyholders living and doing business in affected states:
9 million homes along the Atlantic and Gulf coasts are at risk for hurricane storm surge damage
Those homes have $1.6 trillion in potential reconstruction costs
Florida, Louisiana and Texas top the list of states with the most homes at risk
"While industry predictions for this year's storm season indicate average activity levels, associated storm surge risk remains an important consideration for residential and commercial properties in the 19 states analyzed," Dr. Tom Jeffery, senior hazard scientist at CoreLogic, said in a press release. "Depending on the location of a storm's landfall and that area's population density and reconstruction costs, lower Category storms can cause just as much damage as storms in higher categories."
The following states are the most vulnerable to damage: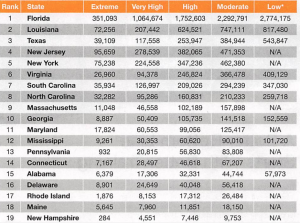 Making sure your property is adequately covered is critical in times like this. Give us a call to review your insurance to make sure there are no gaps.