While maintaining workplace health and safety is a top priority for most businesses, it can be a challenge. This is particularly true for smaller companies that lack the time, knowledge and resources to appropriately address the hazards that threaten their workers and business the most. To help these organizations identify and mitigate health and safety concerns, OSHA created the On-site Consultation Program.
This free, confidential service gives small and midsized businesses direct access to risk control advice. Through the On-site Consultation Program, employers can discover potential hazards at their worksites, improve their occupational safety and health management systems, and even qualify for a one-year exemption from routine OSHA inspections.
The service is offered through state governments using highly trained professionals. Most consultations take place on-site, though limited services away from the worksite are also available. In addition, no citations or penalties are issued during the consultation process.
Confidentiality is maintained during the consultation process. The consultant will only report hazard information to OSHA if the employer fails to correct an imminent danger or serious hazards.
Above all, enrolling in the On-site Consultation Program can help organizations: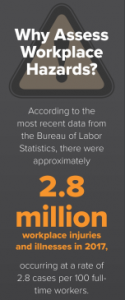  Recognize and remove hazards in their workplace.
 Protect workers from injury and illness.
 Educate employees on workplace hazards and encourage them to take ownership of workplace safety.
 Improve employee morale.
 Comply with federal and state safety and health requirements.
 Increase productivity rates and assure product quality.
 Decrease workers' compensation costs.
Because the service is voluntary, employers have to submit a request in order to receive a consultation. To do this, you will need to find your local program's office using
OSHA's Consultation Directory
. Once a consultant is assigned to you, they will discuss your specific needs and set up a visit date based on your work schedule and the time needed to appropriately assess your business's risks.
To learn more about the program and the consultation process, click here.
The staff at Anastasi Insurance understands the many pressures facing a small business owner today and your need for fast accurate results. From juggling the needs of employees and customers to managing cash flow and staying ahead of intense competition, we are in a unique position to help you evaluate the cost of assuming risk or transferring that risk to an insurance company or surety.
Contact us today.